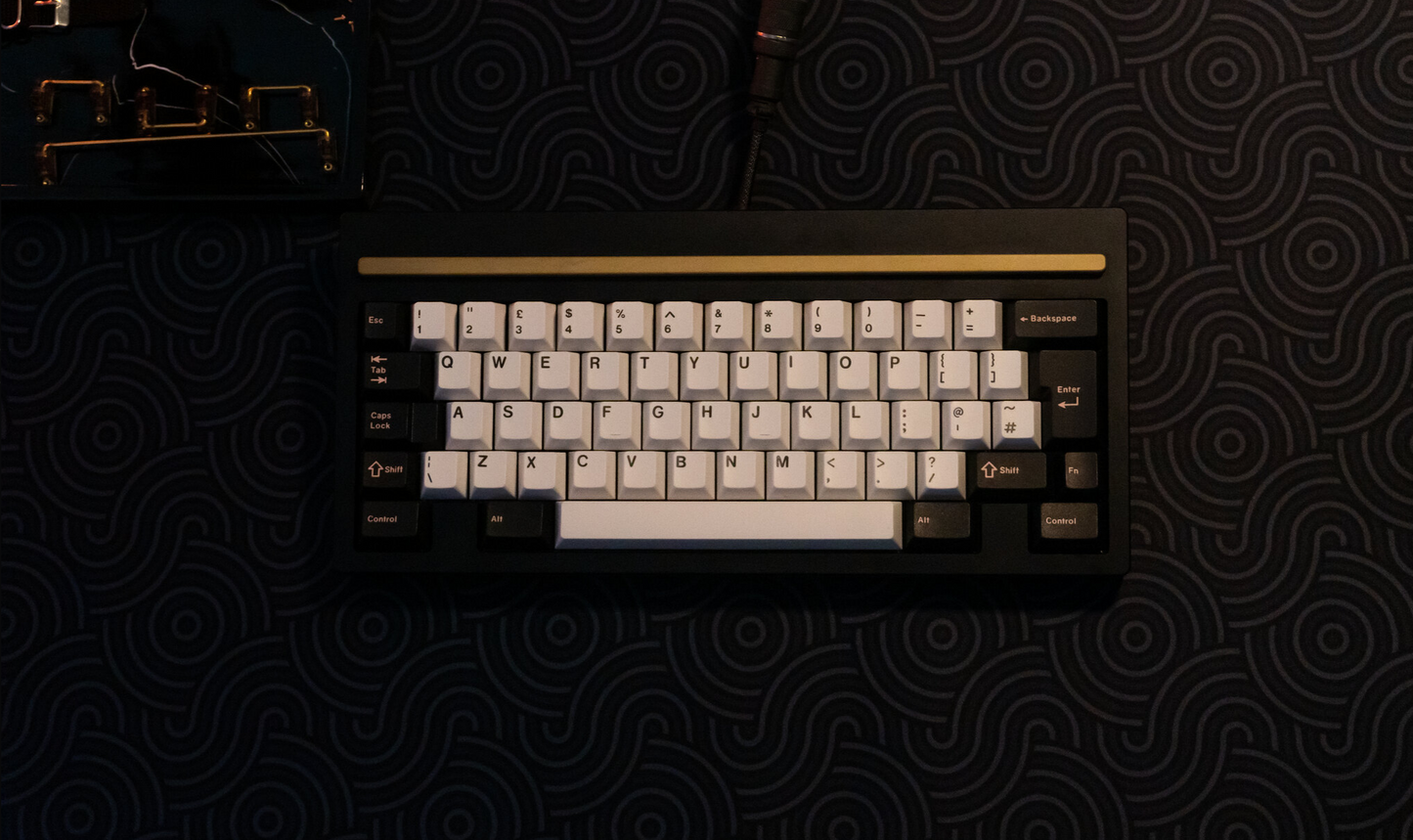 Key Notes:
Carbon Fibre and POM plate GB now live - please read instructions carefully
GMK Maestro and GMK Devoted live from the 12th February!
H87a GB ends on the 15th February
Ethereal Pandas, Dusk Pandas and all POM Durock's have been shipped to Prototypist Warehouse - should arrive next week
Weave Deskmat and some other extras live next week
Solution to ship outstanding EU orders has been found from a VAT perspective - just need to work out how we implement that with couriers, further info soon....
In Stock Now: 
ANSI and ISO Carbon Fibre Tray Mount Plates
Lube Stations
Lavender Switches**
Giant v4 Frosties Switches**
Seal Switches**
Range of Deskmats
Panpan Plushies
Lube Brush kits**
**All Switch packs and Lube Brush kits come with free 3d printed stem holders and switch openers and will soon come with free 0.5ml 205g2 lube (enough to do over 100 switches), I'll announce when the free lube goes live!!
Live Group Buys:
Coming Soon:
KEYSETS:  Infinikey Raspberry, SA8010,  ePBT 6085, GMK Arch, GMK Alchemy, KAT Phantasmagoria, GMK Devoted, GMK Art all coming soon - plus many more!!
KEYBOARDS: Lodestone, J-03, Argyle, Aella, OGR, Isla, Project BB, NK65, Ikki 68 and many more yet to announce :D
MISC: more deskmats, more switches, more stabilisers, more keysets, more keyboards, more lube stations....
Concluded Group Buys Latest Position:
Keyboard group buys currently in production:

Clarabelle - Boards arrived at warehouse - awaiting Boxes. Expected to ship within the next 2 weeks (EU Orders may be later)
Candybar R2.1.1 - Received boards - awaiting a small number of parts to ship final orders - now en-route to the warehouse
J-01 - Manufacturing order placed for all parts (expected June 2021)
Sagittarius (expected July 2021)
Tsukuyomi (expected August 2021)
GMK sets currently in production:

GMK Bleached (Only EU orders to be shipped - all packaging completed)
GMK Black Lotus (expected March 2021) 

(deskmats arrived and shipped for orders with just a deskmat)

GMK Midnight Rainbow (expected June 2021) (deskmats arrived and shipped for orders with just a deskmat)
GMK Mecha-01

 (expected July 2021 - deskmats arrived and shipped for orders with just a deskmat)

GMK Shoko R2 (expected May 2021)

GMK Fundamentals (expected September/October 2021)

GMK Thai Tea (expected December 2021)

GMK Pink on Navy (expected October 2021)

GMK Alpine (expected December 2021)

GMK Stealth (order in process to GMK)

GMK Shanshui (order in process to GMK)

GMK Polybius (order in process to GMK)
KAT sets currently in production:

Drifter (Expected March 2021 from update on 6th Jan from Keyreative - Deskmats have arrived)
Monochrome (Expected December 2021 - Deskmats have arrived)
SA sets currently in production:

Rocket (expected June 2021)
Deskmats currently in production:

RGB Candymat

 

(Replacements being shipped from SwitchKeys - due to arrive on 19th February)
Moody Moon Deskmats (expected March 2021)


Fruit Switch Deskmats (expected March 2021)

UYU Deskmats (expected March 2021)

Lemon Heaven Now (expected March 2021)

Samoyed Deskmats (expected March 2021)

Monochrome Series Deskmats (March February 2021)

Synthwave Series (expected April 2021)

Mech Series by Alexotos (expected March 2021)

Monstera mats (expected March 2021)

Mt Fuji Mat (expected March 2021)

Controller Series (expected April 2021)

Nyap Time Series (expected April 2021)

Plant Arcana (expected May 2021)

bruhmat (expected June/July 2021)
Infinikey sets currently in production (incl matching deskmats):

Strawberry Lemonade

 - Only UK orders left to ship, awaiting more kits (expected February 2021)

808-Boom (Arrived at warehouse - awaiting TKC Sign-Off, expected to ship March 2021)

Amalfi (Arrived at warehouse - awaiting TKC Sign-Off, expected to ship March 2021 - Missing deskmats and Rama caps)

Musubi (arrived at warehouse - awaiting TKC Sign-Off and Deskmats)

Blacklight (arrived at warehouse - awaiting TKC Sign-Off and Deskmats - expected to ship March)

Comfy (expected April 2021)

Dark Cyrillic (arrived at warehouse - awaiting TKC Sign-Off - expected to ship March)

Cabernet (expected May 2021)
Morse (expected May 2021)
DSA Magic Girl (expected May 2021)
Marshmallow 

(expected July 2021)

Infinikey Vanir (expected August 2021)
Misc Group Buys in production

POM Keycaps - Compat kit orders still outstanding - awaiting ETA from Escape Keyboards - Likely March 2021
Shogōki Switch - (expected March 2021)
Dusk Pandas - (expected March 2021)
Ethereal Pandas - 

(expected March 2021)

Lion Switches - (Awaiting Manufacturer Invoice)

PBT Lancelot - (awaiting manufacturer invoice)
Completed and shipped Group Buys:
Infinikey Graen and Deskmats 

- all orders shipped 

Candybar R2 

- all orders shipped 

(R2.1 still outstanding)
Archetype mats - all orders shipped 
Pastel / Black Lotus Deskmats only - all orders shipped
June CF plate GB - all orders shipped
J-02 Limited Edition (only orders bought via Prototypist) - all orders shipped
POM Keycaps (orders without Compat Kit only) - all orders shipped
Islander and deskmats - all orders shipped
Panpan plushies and deskmats - all orders shipped
Finale Deskmats - all orders shipped
Adron - MX Switches, Stefan - Red Skull, BlackRiver - Spaceman - all orders shipped
Boba Tea Series - all orders shipped
Crystal Series - all orders shipped
WCK Deskmat - all orders shipped
EPBT Retro Cyrillic - all orders shipped
Infinikey Pastel and Deskmats - all orders shipped
Infinikey Aether and Deskmats - all orders shipped
Cute Keyboard Club

 - all orders shipped

Rain series - all orders shipped


Infinikey Port - all orders shipped

Infinikey Strawberry Lemonade - all orders shipped (except UK orders as awaiting some missing kits)

GMK Bleached (UK and ROW orders shipped - EU on hold)

Weave Deskmats by Sour - all orders shipped