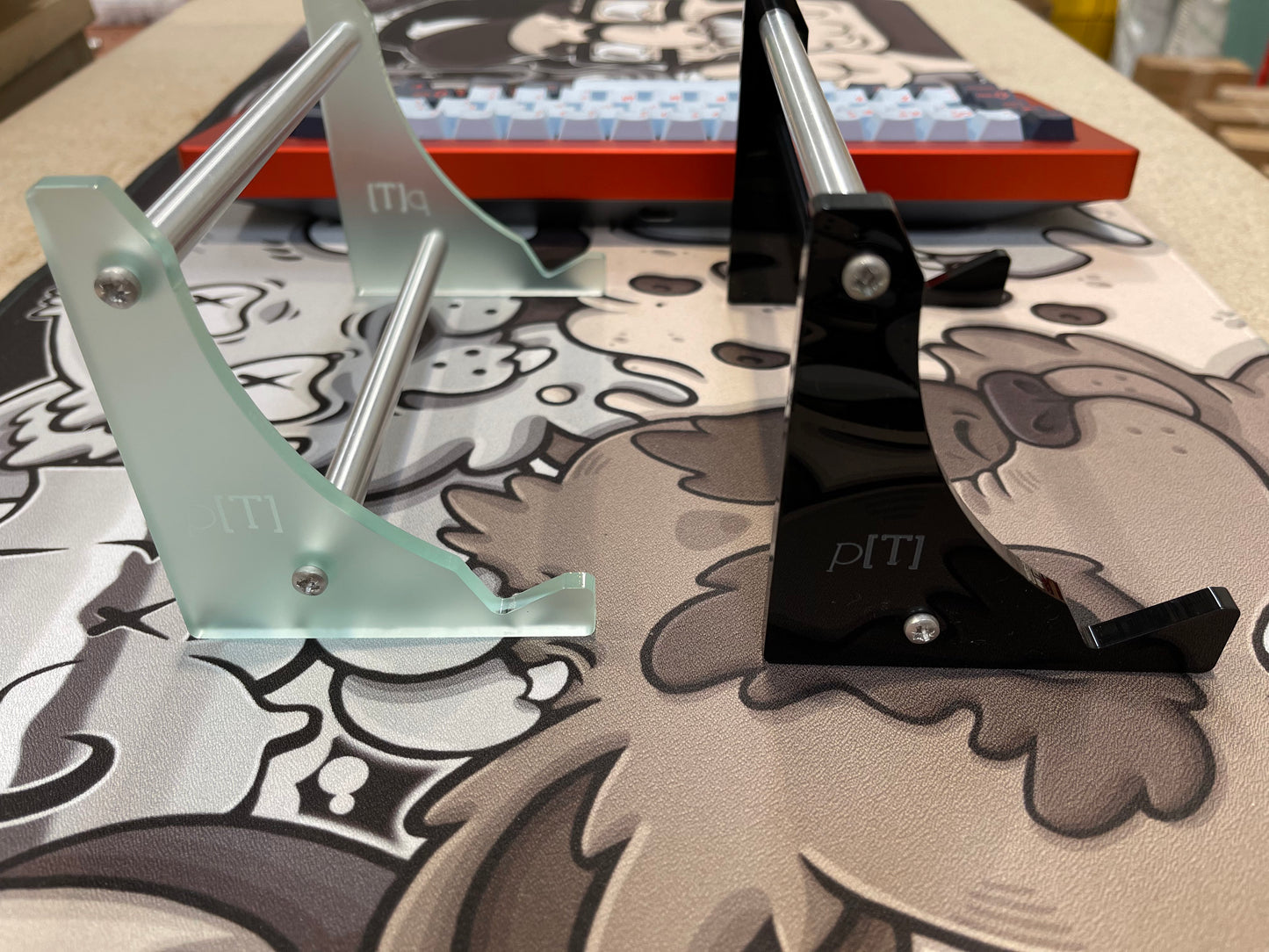 Key Notes:
Dogethink Caps, EV-00 Linear Switches and new Deskmat GB's launched today!
In Stock Keyboard stands In Stock from 12 noon today!
GMK Alchemy Live tomorrow!
TGR x Monokei TOMO Launches May 28th! More details soon...
Dualshot Console Mat now added to the GB!! Email me to add it to an existing order!!
In Stock Now: 
A range of switches -

 

all with free Lube, stem holders and switch openers

 

(whilst stocks last)
Range of Deskmats
Panpan Plushies
Atomic Purple Lube Stations
Keyboard stands!!
Live Group Buys:
Concluded Group Buys Latest Position:
Keyboard group buys currently in production:

J-01 (expected July 2021 - PCB Delay)
Sagittarius (expected July 2021)
Tsukuyomi (expected August 2021)
Onyx (expected Q4 2021)
Ikki68 Aurora 

(expected Q3 2021)

NK65 SuperUser (expected Q3 2021)
GMK sets currently in production:

GMK Black Lotus (expected July 2021) 

(deskmats arrived and shipped for orders with just a deskmat)

GMK Midnight Rainbow (expected July 2021) (deskmats arrived and shipped for orders with just a deskmat)
GMK Mecha-01

 (expected August 2021 - deskmats arrived and shipped for orders with just a deskmat)

GMK Shoko R2 (expected October 2021)

GMK Fundamentals (expected February 2022)

GMK Thai Tea (expected February 2022)

GMK Pink on Navy (expected February 2022)

GMK Alpine (expected February 2022)

GMK Stealth (expected Q1-Q2 2022)

GMK Shanshui (expected Q1-Q2 2022)

GMK Polybius (expected Q1-Q2 2022)

GMK Civilisations (expected Q2 2022)

GMK UMKA (expected Q1-Q2 2022)

GMK Birch (expected Q2 2022)

GMK Dots R2 (expected Q1-Q2 2022)

GMK Dandy (expected Q1-Q2 2022)

GMK Devoted (expected Q3 2022)

GMK Maestro (expected Q2 2022)

GMK Cobalt (awaiting Manu invoice)

GMK Shinethrough (expected Q2 2022)

GMK Nightshade (expected Q3 2022)

GMK Yeeti (expected Q3 2022)

GMK Striker R2

 

(expected Q3 2022)

GMK Fuji (expected Q3 2022)

GMK Watermelon (expected Q3 2022)

GMK Red Alert (expected Q3 2022)

GMK Blurple (awaiting manu Invoice)

GMK Metropolis R2 (awaiting manu Invoice)

GMK Boulder (awaiting manu Invoice)

GMK Agent 01 (awaiting manu Invoice)
KAT/KAM sets currently in production:

Monochrome (Expected December 2021)

 

(deskmat only orders shipped)

KAM Superuser

 (Expected October 2022)
SA sets currently in production:

Rocket (expected September 2021 - Deskmats Arrived)
SA8010 (expected Q3 2022)

SA Magica (awaiting Manu invoice)
Deskmats currently in production:

UYU Deskmats (Packed ready to ship - awaiting TKC Sign-Off, expected to ship May 2021)

Lemon Heaven Now (expected May 2021)

Samoyed Deskmats (expected May 2021)

Monochrome Series Deskmats (expected May 2021)

Synthwave Series (expected May 2021)

Mech Series by Alexotos (expected May 2021)

Controller Series (expected June 2021)

Nyap Time Series (expected June 2021)

Plant Arcana (expected May 2021)

Senkai Waterproof Deskmats

 (expected September 2021)

Kanagawa (Ikki) Deskmats (expected September 2021)

Redux Deskmats (expected September 2021)

Astroneko Deskmats (expected September 2021)

Penguin Deskmats (expected October 2021)

Spilled Dragon Deskmats (awaiting manu invoice)

Kiga Deskmats

(awaiting manu invoice)
Infinikey sets currently in production (incl matching deskmats):

Comfy (Keyset Arrived - Pending deskmats and TKC approval - half packed - expected to ship June)
Cabernet (expected June 2021)
Morse (expected June 2021)
DSA Magic Girl (expected July 2021)
Marshmallow 

(expected August 2021)

Vanir (expected August 2021)

DSA Nature Witch (expected September 2021)

Monochrome 

(expected November 2021)

OG

 (expected November 2021)
Misc Group Buys in production

POM Keycaps - Compat kit orders still outstanding - Expected May 2021

Lion Switches - (Expected July 2021)

PBT Lancelot - (expected July 2021)

ePBT RamenStop (expected September 2021)

March 2021 CF / POM Plate GB

 

- File Sorting complete - Moving to Manu (expected June 2021)
Hiney H87a / H60 - (expected May 2021)
EV-01 Linear Switch

 (expected October 2021)

Geekark Triangle (expected October 2021)

ePBT Aesthetic (Awaiting Manu Invoice)
Completed and shipped Group Buys:
Infinikey Graen and Deskmats 

- all orders shipped 

Candybar R2 

- all orders shipped

Archetype mats - all orders shipped 
Pastel / Black Lotus Deskmats only - all orders shipped
June CF plate GB - all orders shipped
J-02 Limited Edition (only orders bought via Prototypist) - all orders shipped
POM Keycaps (orders without Compat Kit only) - all orders shipped
Islander and deskmats - all orders shipped
Panpan plushies and deskmats - all orders shipped
Finale Deskmats - all orders shipped
Adron - MX Switches, Stefan - Red Skull, BlackRiver - Spaceman - all orders shipped
Boba Tea Series - all orders shipped
Crystal Series - all orders shipped
WCK Deskmat - all orders shipped
EPBT Retro Cyrillic - all orders shipped
Infinikey Pastel and Deskmats - all orders shipped
Infinikey Aether and Deskmats - all orders shipped
Cute Keyboard Club

 - all orders shipped

Rain series - all orders shipped


Infinikey Port - all orders shipped

Infinikey Strawberry Lemonade - all orders shipped 

GMK Bleached - all orders shipped 

Weave Deskmats by Sour - all orders shipped

Dusk Pandas - all orders shipped
Ethereal Pandas - 

all orders shipped

Clarabelle - all orders shipped
RGB Candymat

 - all orders shipped

Monstera mats - all orders shipped

Fruit Switch Deskmats - all orders shipped

Mt Fuji Mat

 

- all orders shipped 

KAT Drifter - all orders shipped

Moody Moon Deskmats - all orders shipped

Mt Fuji Mat - all orders shipped

808-Boom - all orders shipped

Amalfi - all orders shipped

Musubi - all orders shipped

Blacklight - all orders shipped

Dark Cyrillic - all orders shipped

Shogoki Switch - all orders shipped

Bruh Mat - all orders shipped