Closing Date: November 26th 2021
Expected Shipping time: Q3 2022


PCBs
This round, we have 6 PCBs, please check their features below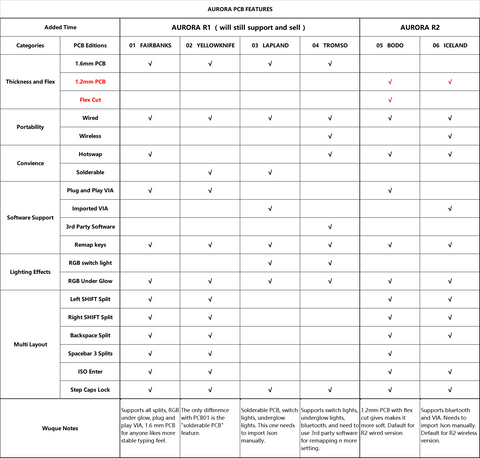 Please check high resolution table here.
PCB 01 Fairbanks 
Wired Hot swap PCB (default for R1 wired kits and mizu kit)
Wired, hotswap, supports QMK/VIA, Stepped Caps Lock,Split Spacebar,Split Backspace,Split Left Shift,Split Right Shift, ISO Enter, Underglow, supports PCB mounted stabs
PCB 02 Yellowknife 
The same as Fairbanks PCB, but it's soldered instead of hot-swap.
Wired, soldered, supports QMK/VIA, Stepped Caps Lock,Split Spacebar,Split Backspace,Split Left Shift,Split Right Shift, ISO Enter,Underglow, supports PCB mounted stabs
PCB 03 Lapland 
Similar to Yellowknife, but it offers per-key lighting at the expense of some layout support.
Wired, soldered, supports QMK/VIA, RGB per-key lighting, Underglow, Stepped Caps Lock,Split Spacebar, supports PCB mounted stabs
PCB 04 Tromso 
Bluetooth wireless hotswap PCB (default for R1  wireless kit)
Wired, Bluetooth, ANSI, hotswap, software, has switch leds, underglow,Stepped Caps Lock, supports PCB mounted stabs
PCB 05 Bodo  (default for R2 wired kit)
It's the default PCB of R2. It's a thinner, flexier version of the default PCB of R1- Fairbanks. The 1.2mm thickness paired with flex cuts allows for a great amount of flex while still being stable.
PCB 06 Iceland (default for R2 wireless kit)
A bluetooth version of Bodo that supports VIA. Supports all the splits except for split spacebars.
Aluminium
 Top Cases
The are compaitible with Aurora R1 too.
Colors: E-white, black, pink, navy blue, red. Please check more albums here.
Plates
With flex cut: PC plate, POM

 

plate

, FR4

 

plate

, Carbon Fiber 

plate

Without Flex cut: Brass

 

plate

, Alu 

plate
Poron Dampener Kit
We design this kit for anyone wants a softer, bouncy typing feel. They are a PORON sheet and PORON plate foam. The thin PORON sheet goes between switches and PCB similar to a PE sheet, but it's much more durable in our experience.
Brass weight
We added clear coat to protect it better and cleaner and it can also prevent potential short. The patterns shown is from R1, R2's will be different.
Group buy details
Group Buy starts: November 12th, 2021
Group Buy ends: November 26, 2021
ETA to customers: April, 2022
 Also available at:
Disclaimers
Kindly note that the images are of 3D renders and are for illustration purposes only. The final colours may differ slightly.
The Ikki68 Aurora is DIY, enthusiast product. It is not terribly complicated to assemble, but some basic tool skills such as managing torque with a screwdriver, and some basic keyboard building skills such as how to install stabilizers, hot-swap switches are required. You will not be required to solder anything.
Reading and following the build guide is essential, especially if it's your first time building. Please make sure you are aware of this before building Aurora.
Shipping Time and GB Agreements (PLEASE READ):
These Keyboards are set to be shipped out in Q3 2022 at the earliest. Please use our updates to check the latest position - Linked in the top menu of every page.

Please note that this is a Group Buy. There can be delays and set backs. The timeline is only an estimate. By adding this item to your cart and purchasing you agree that you understand everything above. You will be charged immediately for this item. There are no refunds or cancellations on these orders. Please do not purchase this item with other group buys. Only the items specified in each product picture are included with that particular product.

To validate purchases being limited to 2 per household, shipping address information may be used to cross reference with other worldwide vendors. Only your address information will be used, and no other identifying information. Additionally your information will not be shared with any other party and will be stored securely and deleted once validation has completed.
See Group Buy Updates