Closing Date: November 26th 2021
Expected Shipping time: Q3 2022


We are pleased to be working with wuque.studio and Sayantan to bring you the Ikki68 Aurora x Zen Pond!
The Ikki68 Aurora is an affordable, injection molded, polycarbonate case, gasket-mount keyboard kit from Wuque Studio, the people behind Ikki68, OA Switches and more! This limited edition keyboard takes on the Koi fish theme from designer Sayantan's GMK Zen Pond.
The Aurora uses a variable gasket structure where you can choose how many mounting points to use in order to adjust the amount of bounce / firmness to your liking.
What's new in R2?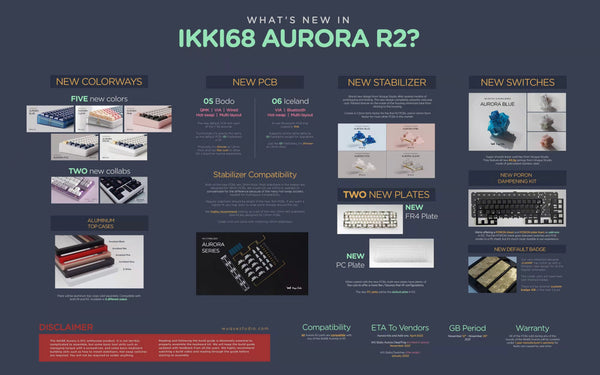 More detailed updates can be found on our Reddit IC Post. If you are totally new to Aurora, please check Aurora R1 information page for more ideas.
With all the new features above, we hope all Aurora users, no matter old or new, can enjoy a great personalized custom typing experience at an affordable price.
The purchase limit per household is: 

2x Aurora Snow/Fog/Blue/Pink/Clear
Any kits ordered beyond the limit will be refunded, minus a 4% processing fee. 
A standard sized, widely available LiPo battery is required for Bluetooth editions but it's not included with the kit. You can source it on your own.
Aurora R2 Highlights:
Variable gasket mount structure. Remove some or all of the gasket chips to change from firm to bouncy. Both Silicone and Poron gaskets are included to fine tune the experience even further!
Default PCB (05 - Bodo) for wired version is a hot-swap PCB that supports multiple layouts! This is a very unique feature that lets you use any or all of split L Shift, split R Shift, split Backspace, stepped Caps Lock and ISO Enter, anytime you want. No soldering necessary! Default PCB (06 Iceland) for Wireless version is a Blue Tooth/VIA hotswap that supports splits like Bodo, except space bar. For all PCB specifications, please check

 

PCB table here.
Default Silicone dampener kits and add-on Poron dampener kit can provide different typing feel and sound, so you can test and choose the one you like most.
The badges are hot-swappable, meaning you can change them without taking apart the case! There will be a custom badge group buy after R2 GB ends. You can even get a one of a kind badge made with your custom design! 
Personalize your Aurora even further with the use of Logo Chips! The little cutout above the right Arrow Key has LEDs underneath. Cut your own design onto a piece of thick paper and put over the hole to see the light shine through. You can even 3D print plastic chips, laser cut other materials as well. The Aurora will come with one Wuque Studio branded chip, and a blank chip to cover the cutout in case you do not want to use it. 
Features:
Aluminum Top Case, Polycarbonate Bottom Case
Weight: (fully assembled, with optional weight): 1150g

Weight: (fully assembled, no optional weight): 830g
6.5 Degree Typing Angle

Gasket Mounting
Hotswap PCB
What's included:
1x Ikki68 Aurora x Zen Pond case (Alu top case and blue PC bottom case).
1x Multi-layout hot swap QMK PCB (Bodo)
1x Hotswap Namebadge set
1x Default PC plate
1x Silicone dampening pad between PCB & plate
1x Silicone dampening pad between PCB & case
1x Silicone Gaskets Set
1x Poron Gaskets Set
1x Keyboard storage case
1x Coiled USB cable
6x 2u + 1x 6.25u set of color matched stabilizers.
Extra screws, diodes, sockets, keyboard feet, hex screwdriver

Specs:
Case material: Aluminum Top case, PC bottom case.
Default plate material: PC 
Weight (fully assembled, with optional weight): 1150g
Weight (fully assembled, no optional weight): 830g
Typing angle: 6.5 degrees
Dimensions: 13.6" x 4.4"
Base height: 0.9" tall without rubber feet
* Aurora x Zen Pond case and GMK Zen Pond will be color matched by different sets of people, and they will be produced at two different factories. There may be slight variation in final colors from renders. We will try our best to match as close as possible to the Pantone chip picked by the designer.
Compatibility
Alu tops and new PCB plate are compatible with R1. 

We Recommend to use WS Stabs Aurora Series (1.2 mm PCB) for Aurora R2 PCB05 (Bodo) and PCB 06 (Iceland)
Aurora R2 kits have 1.2 mm PCB by default, WS stabs fit them perfectly, no need for washers or shims. Since PCB05 and PCB06 have more hotswap sockets for various kinds of splits, normal washers or shims won't sit properly. If you really want to use normal stabs, we suggest you to use threads or other things to lift up stabs like this. Alternatively, you can purchase Aurora Stabs here.  
Group buy details
Group Buy starts: November 12th, 2021
Group Buy ends: November 26, 2021
ETA to customers: April, 2022
 Also available at:
Disclaimers
Kindly note that the images are of 3D renders and are for illustration purposes only. The final colours may differ slightly.
The Ikki68 Aurora is DIY, enthusiast product. It is not terribly complicated to assemble, but some basic tool skills such as managing torque with a screwdriver, and some basic keyboard building skills such as how to install stabilizers, hot-swap switches are required. You will not be required to solder anything.
Reading and following the build guide is essential, especially if it's your first time building. Please make sure you are aware of this before building Aurora.
Shipping Time and GB Agreements (PLEASE READ):
These Keyboards are set to be shipped out in Q3 2022 at the earliest. Please use our updates to check the latest position - Linked in the top menu of every page.

Please note that this is a Group Buy. There can be delays and set backs. The timeline is only an estimate. By adding this item to your cart and purchasing you agree that you understand everything above. You will be charged immediately for this item. There are no refunds or cancellations on these orders. Please do not purchase this item with other group buys. Only the items specified in each product picture are included with that particular product.

To validate purchases being limited to 2 per household, shipping address information may be used to cross reference with other worldwide vendors. Only your address information will be used, and no other identifying information. Additionally your information will not be shared with any other party and will be stored securely and deleted once validation has completed.
See Group Buy Updates